2019 Cloud Webinar Series: Join Us Tomorrow for Platform as a Service Day!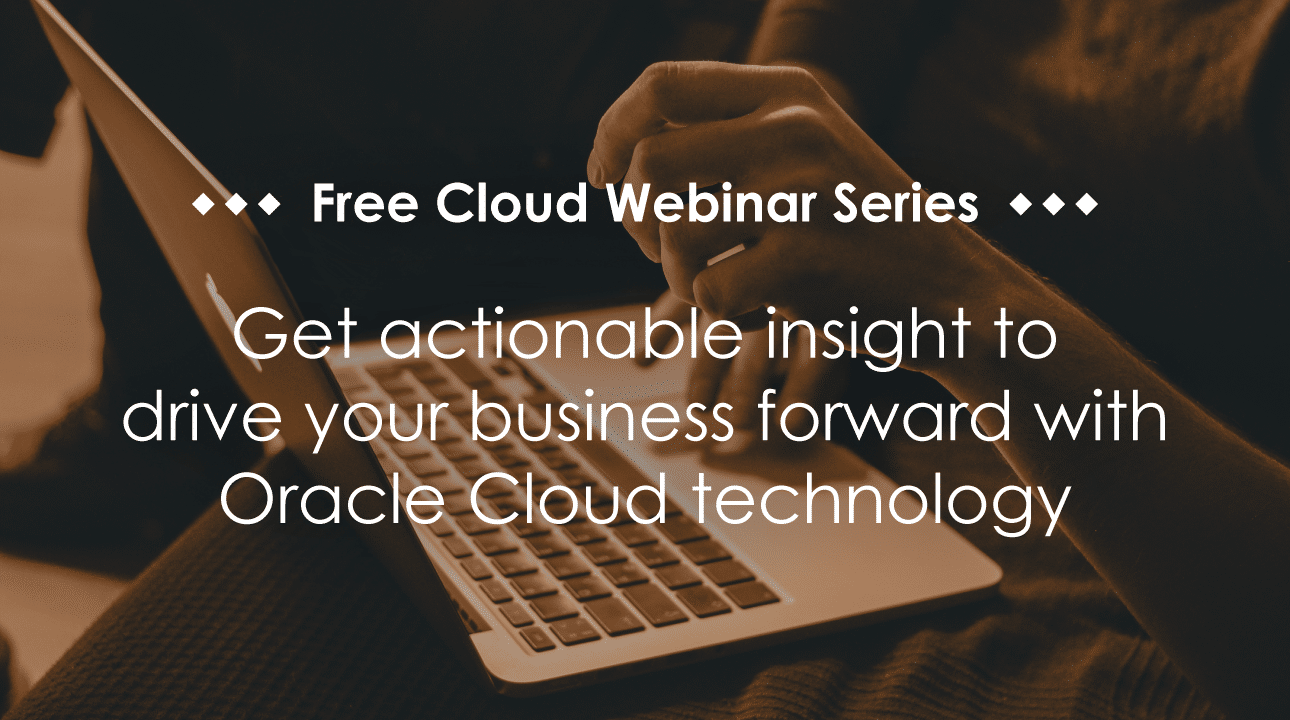 Navigating the Cloud journey can be daunting. Regardless of where you are in your Cloud journey, seize the opportunity to learn from peers, catch up on the latest hot topics surrounding Cloud technology and walk away with actionable insight to help you drive your business forward with Oracle Cloud technology. Our 2019 Cloud Webinar Series can help you do exactly that. This series features free, online education about Oracle Cloud applications, Oracle Cloud Infrastructure, Platform as a Service (PaaS), and Autonomous Database. Join us tomorrow for Platform as a Service Day!
Check out the Platform as a Service Day agenda below and click "Register Now" to register for the sessions today. Sign up for as many as you want! You will be emailed calendar invites with the link to join after you register.
Note: Times are reflected in the Eastern (EDT) time zone.
Platform as a Service Day Agenda
12:30 pm – 1:30 pm
Presented by Shirley Lum, Oracle
When it comes to digital transformation to the cloud, one size doesn't fit all. Some customers are ready to embrace the cloud from the start by adopting Oracle SaaS applications. Other customers want to keep their on-premises apps and enhance them with modern cloud services as they gradually increase their cloud footprint. In both cases, Oracle offers a complete transformation platform that offers the flexibility to connect, extend, secure and analyze beyond "single line-of-business" offerings. Attend this session to learn whichever path you take, the underlying Oracle Cloud Platform services deliver continuous innovation at your pace—use what you need, when you need it.
2:00 pm – 3:00 pm
Presented by Daryl Eicher, Oracle
Whether you're modernizing your existing EBS, JD Edwards, PeopleSoft, and Siebel applications, or considering SaaS options, you will be asked to connect islands of automation. Like the plumbing and wiring that needs retooled for a successful kitchen renovation, your integration and automation strategy needs to be up to the requirements business users assume will "just work". It's imperative to reimagine your integration strategy as part of your modernization journey. This session will show how Oracle Integration with ready-to-use adapters, prebuilt templates and low-code automation can help you bridge the enterprise divide between business and IT.
3:30 pm – 4:30 pm
Presented by Shay Shmeltzer, Oracle
Are your native app capabilities not able to keep up with ever-increasing unique line of business requirements and proliferation of data sources? Oracle Visual Builder with its simple visual low-code development environment empowers you to create mobile and web applications that integrate services from multiple sources. Visual Builder is also the development tool used by Oracle's internal developers to create the next generation of Oracle SaaS user interfaces. With an integrated catalog of SaaS services, Visual Builder simplifies your access to SaaS data and incorporates it into your applications. it's easy to create SaaS extensions and deliver them as hyperlinks or embedded within Oracle Cloud Applications, all along the way ensuring SaaS data is securely accessed only by users with the appropriate permissions. If you reached the limits of your current applications, you don't want to miss this session to learn how to create applications that combine custom data objects with data from existing applications to create engaging web and mobile applications that are hosted in Oracle's secure and scalable cloud platform.
5:00 pm – 6:00 pm
Presented by Carlos Chang, Oracle
Organizations are rapidly adopting AI and other emerging technologies in all aspects of their business. Attend this session to learn about what's new in cutting-edge solutions including AI-powered conversational interfaces, blockchain, the Internet of Things, and automated application development (leveraging AR and VR). Learn how chatbots commonly found at home are evolving to be commonplace as the latest interfaces to customer-facing and backend systems that will delight customers and improve employee productivity while maintaining the security and privacy enterprises expect.
Additional Resources
For more sessions from our 2019 Cloud Webinar Series, check out the other sessions that we have coming up:
Autonomous Database Day: October 17, 2019
To access recordings from ERP Cloud Day, EPM Cloud Day, HCM Cloud Day, SCM Cloud Day, and OCI Day, visit the 2019 Cloud Webinar Series landing page.
Save the date for Quest Experience Week! This free, four-day event is jam-packed with digital education designed to provide both strategic insight and how-to-education for Oracle users of all levels. Each day is dedicated to a different product and begins with a keynote followed by afternoon breakout sessions. Join us November 12-15, 2019, for conference-quality education from the comfort of your desk!
Cloud Day: November 12
Database Day: November 13
PeopleSoft Day: November 14
JD Edwards Day: November 15
COLLABORATE 20 will take place April 19-23, 2020 at the Mandala Bay Resort and Casino in Las Vegas, Nevada! Don't miss this chance to share inspiration, insights, and solutions with your peers, vendors, and the Oracle team!