2019 Cloud Webinar Series: SCM Cloud Day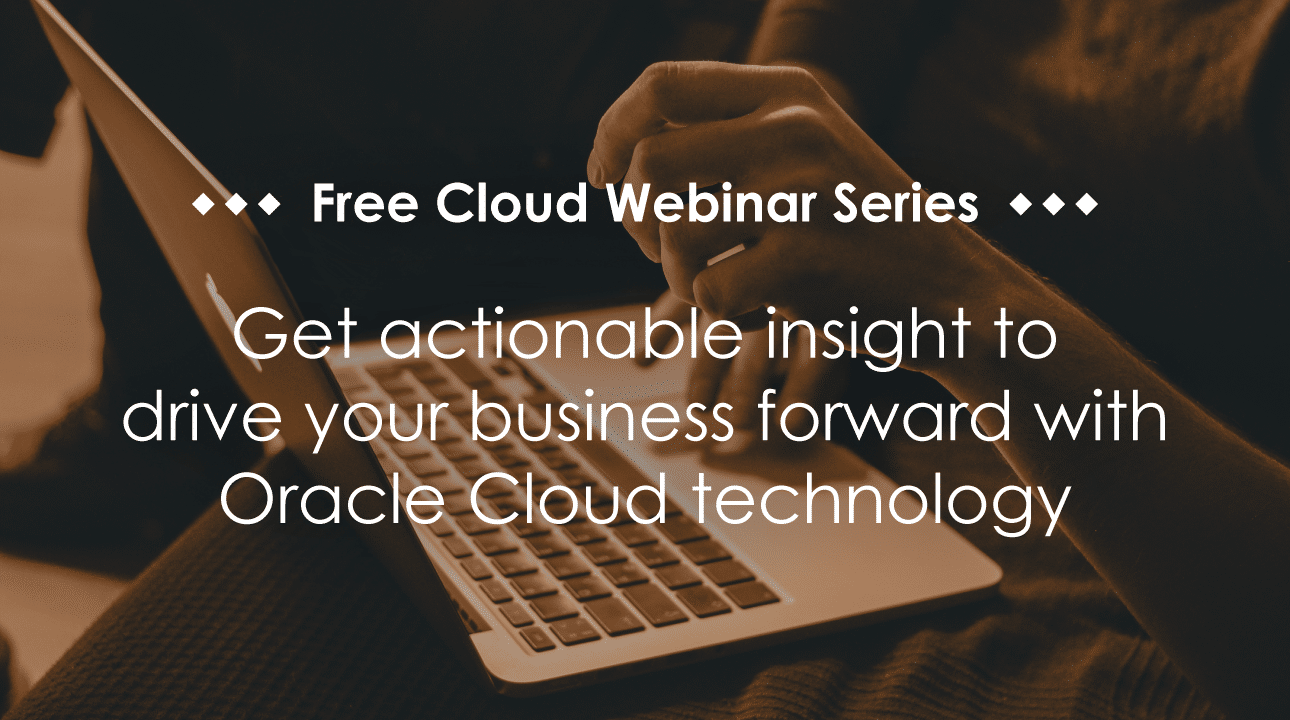 Navigating the Cloud journey can be daunting. Regardless of where you are in your Cloud journey, seize the opportunity to learn from peers, catch up on the latest hot topics surrounding Cloud technology and walk away with actionable insight to help you drive your business forward with Oracle Cloud technology. Our 2019 Cloud Webinar Series can help you do exactly that. This series will feature free, online education about Oracle ERP Cloud, Oracle EPM Cloud, Oracle HCM Cloud, and Oracle SCM Cloud. Join us tomorrow for part three – SCM Cloud Day!
Check out the SCM Cloud Day agenda below and click "Register Now" to register for the sessions today. Sign up for as many as you want! You will be emailed calendar invites with the link to join after you register.
Note: Times are reflected in the Eastern (EDT) time zone.
11:00 am – 12:30 pm
Virtual Procurement and the C-Level CPO
Presented by Roy Anderson, Tradeshift
You are what you do. A time study at my previous CPO role showed that my senior team was still mired in important, but not high level, strategic work. I now have the opportunity to build a brand new supply chain function, in a fast-growing company, with the target to be focused on supplier innovation, internal collaboration and being the C-Level CPO. Yes, the procurement work has to be done, but it doesn't have to be done by you. The key is to build out the virtual procurement function and let the Marketplace deliver transactional solutions. This interactive discussion will challenge your understanding of procurement, and present to you a unique opportunity to be on the ground floor of an SCM revolution.
At this session, learn how an app integrated supply chain network can:
Give you full knowledge and full insight into your supply chain data to increase your speed and productivity and give you more time for high-value strategic planning
Help you gain a comprehensive insight into your customers to meet KYC standards
Deliver higher value products and services at lower costs
12:30 pm – 1:30 pm
Future Ready Supply Chain Management for Today's Dynamic Global Business Environment
Presented by Jeff Stiles, Oracle
The pace of change and volatility in global business and global trade places a huge strain on traditional systems, business processes and business models, and organizations who are unable to outpace change run the risk of falling behind their competitors. This session will identify strategies for successfully modernizing business functions and processes and will also showcase examples of Oracle customers who are using Oracle Cloud in modernizing entire divisions and transformational initiatives across the enterprise.
2:00 pm – 3:00 pm
Embrace Innovations – Emerging Tech for Supply Chain Management
Presented by Shirley Lum, Oracle
AI and other emerging technologies are changing how organizations are operating. Oracle Cloud Platform is the powerful engine under the covers of Oracle SaaS that delivers continuous, seamless innovations. Get a peek behind the scenes at new cutting-edge technologies including AI-powered conversational interfaces, blockchain, the Internet of Things, and immersive interactions leveraging AR and VR.
Attend this session to learn how Oracle Platform services can make it easy for SCM to adopt exciting innovations that transform traditional business models and add unique value to both customers and employees.
3:30 pm – 4:30 pm
Building the Foundation for Growth with Oracle Cloud
Presented by Josh Stauffer, HarbisonWalker International
HarbisonWalker International (HWI), a brick refractories manufacturer, rebranded and needed to transform the organization under new ownership. The new leadership team had a bold vision to implement integrated order fulfillment and demand planning companywide. To achieve that vision it chose Oracle SCM Cloud, Oracle ERP Cloud, and Oracle EPM Cloud. HWI now provides faster quotes, fulfills inventory from multiple service centers, and greatly reduced inventory requirements, all due to the visibility of Oracle Cloud. Attend this session to learn how HWI approached this journey and how it plans to leverage the cloud in the future.
Additional Resources
For more sessions from our 2019 Cloud Webinar Series, check out the other sessions that we have coming up:
Oracle Cloud Infrastructure Day: October 15
Platform as a Service Day: October 16
Autonomous Database Day: October 17
COLLABORATE 20 will take place April 19-23, 2020 at the Mandala Bay Resort and Casino in Las Vegas, NV! Call for Presentation is now open. Don't miss your chance to share your stories, insights, and advice with the Quest Oracle Community! Submit an abstract by October 11, 2019, to be considered to be a speaker at the conference.