Remembering Dr. DBA, Ken Jacobs
Employee #18, Ken Jacobs, worked at Oracle longer than any other person, excepting only Larry Ellison. Dr. DBA, Ken Jacobs, will be missed! He was Oracle's best advocate for both customers & User Groups; he was Kind, Giving, Positive, Honest, Knowledgeable, Unselfish, Humble, & the Smartest Guy in the Room! Ken was also that fearless leader ready to stand up to Oracle on behalf of a User Group or customer to make things right when needed. Sadly, Ken suffered a pulmonary embolism and passed away at the age of 71. His fortitude stretched beyond Silicon Valley and across the globe with enthusiastic keynotes, positive tech sessions, but always teaching with rare character attributes while showing detailed product strengths to be leveraged. Someone at Oracle once said Ken was the guy at Oracle that read the manual & expected it to perform for customers exactly as the manual said it would. Serving on the IOUG board with Ken, I saw the best that Oracle had to offer. Ken always mentored everyone he met just by being himself. Ken not only won the top award that the International Oracle User Group gave out to an Oracle employee (the IOUG Contribution Award), The IOUG Contribution Award was soon renamed the "Ken Jacobs Award." The award became more than just a leader with tech contributions, it also looked for character attributes that Ken always displayed.
After posting the news on LinkedIn, the comments from other Oracle User group leaders flooded in from user groups around the world. The now Independent Oracle Users Group (IOUG) is now part of the Quest Oracle Community. Friends that Ken impacted left comments that show they were both mentored and often helped by Ken Jacobs. They also showed that he was there when they needed him and was always willing to teach any group at any level. From some that knew him well:
"Ken was brilliant and a friend to all – especially in the user group community. So honored to have known him, and honored to celebrate his life and legacy."

— John Matelski, IOUG President (now CIO DeKalb County Govt.)

"Such a great guy Ken, advocate of customers in the user community, it was a privilege to serve on the Board of Directors with him."

— Steve Lemme, IOUG Board; (now Global Sales & Partner Training Development and Enablement at Oracle)

"Oh no. He was my first Oracle guru back in late 1980s and always has been. Calls a spade a spade and fully supported the Oracle communities. May his soul Rest In Peace."

— Tony Jambu, Australia User Group Leader (now Owner, Wizard Consulting)

"So sad to hear this, always a gentleman."

— Debra Lilley, UK Oracle Users Group (now Accenture HCM practice lead)

"Ken was always a passionate advocate for the Oracle user community, and a dear friend to NYOUG since its founding in 1984. He was a frequent keynote speaker at NYOUG meetings, starting back when his slideshow was actually slides in a Kodak carousel. I've met many technologists with "advocate" or "evangelist" in their job titles. Perhaps unfairly, Ken Jacobs is the standard I use to gauge their effectiveness. May his memory be for a blessing."

— Michael Olin, President, NYOUG (now VP at Jennison Assoc.)
"I'm so sad to hear that Ken passed! I first met Ken in November 1981 when I took the "Intro to Oracle" class at Oracle's only East coast office in Bethesda, MD and Ken was the instructor. 14 months later, I went back for the "Database Design" course and, again, had Ken as my instructor. I'm sure that makes me Oracle Education's most satisfied customer of all time, having had Ken teach the only 2 courses I ever took. When I was NOUG president, I invited him to Boston as our keynote speaker, and when I served on the IOUG board, I was happy to have Ken as our Oracle representative. He was as principled as he was knowledgeable, and he always had the best interests of Oracle's customer base and user community in mind, and managed to consistently do the right things for them. While most thought of him as "Dr. DBA"; to me, he was the conscience of Oracle."

— David Teplow, Northeast Oracle Users Group (now Practice Director, Snowflake)

"Very sad news. Rest in peace Ken."

— Scott Nelson, Head of Indiana User Group; (now Security Analyst at IBM)

"Ken was a great guy. Someone who I admired that always tried to do the right thing. The world lost a good guy."

— Michael Corey, IOUG President (now Co-founder LicenseFortress)

"I have only met a few Oracle Executives and he was one of those who was approachable and really was a great friend to the user community. Always willing to help. What a great spirit. He will be sadly missed. RIP Ken."

— Mike Gangler, IOUG Board, Michigan Board, Midwest Oracle Users Group Board (now Senior Architect on Exadata)

"I always remember Ken's smile and passion for Oracle and the Oracle community. His positive enthusiasm and caring of others infused a lot of energy into all the people that worked with him for years. Ken was definitely the Dr. of DBAs."

–George Trujillo Jr.; IOUG Board (now VP at Overstock.com)

"May his life be for a blessing."

–Coleman Leviter, IOUG Board. NYOUG Board (now Consultant to NYC)

"Extremely sad news. Ken has been such a fixture in the Oracle community in general, and our IOUG family in particular, for so many years; it is hard to believe he is gone. Back in the mid-'80s, long before anybody knew me in the Oracle community, I was supplying finance, payroll, and billing software to small public municipalities. The software used the Oracle database and back then, it had more than a few problems. One of Ken's earliest roles at Oracle was supporting the Public Sector, so I first met him as the guy on the other end of the phone line who was always so helpful and supportive. He would always call you back and made you feel like your problem was his problem. I was very surprised when I later learned that he actually ran Oracle's Washington, D.C. office at the time. He touched so many in our community in similar ways. Ken's contributions to the community, and most of all, the humble nature and kindness of his personality will be sorely missed.

— Troy Ligon, IOUG Board. SOUG President (now Enterprise Architect to InComm Payments)
The impact Ken made at Oracle was even greater than that with Customers. Margaret Jacobs was writing her first press release for a new Oracle product and very overwhelmed (one Oracle employee called working at Oracle back then: "A precarious handhold on a speeding freight train"). She thought she made the worst mistake of her life taking on this new job. After asking for suggestions to the press release, Ken Jacobs reached out in an email to help with the technical details. Larry Ellison would call Ken the "conscience of Oracle" while reading the press release. Shortly after, Margo realized that meeting Ken was the real reason she came to Oracle and the best decision of her life. He was the one that took time to help in a kind, generous, knowledgeable, and caring way. Even though Ken would tell her: "He fell in love with the database first." She would tell him: "She was happy to be in the top two." Tell me that's not the future Dr. DBA (many spouses of DBAs can relate). He would always value family first whether it was a trip scuba diving the Great Barrier Reef (he learned scuba to cure his fear of water), or taking his daughter snowboarding (he feared skiing, so he took it up later in life), or supporting his wife by always telling her fear, doubt, sadness; those are not serving any purpose.
Derry Kabcenell who was the lead developer for V5 and worked with Ken for 20 years said Ken was his "best friend at Oracle, curious about everything, super at technology, revered by customers; I really miss him." After posting the news on LinkedIn, the comments from other Oracle employees showed you not only the true character of Ken Jacobs, but also serve as lesson to us all on how to treat others needing our help along the way and how much it makes an impact on their lives.
"When I joined the Oracle Database development team in 1984, I had four years of software development experience, but absolutely no experience in working directly with customers. Ken took me under his wing and taught me everything I know about communicating and collaborating with customers. Ken often consulted with me to better understand how the Oracle Database worked. Once I explained some product detail to Ken, he would never forget what I explained to him. Over time, Ken amassed more detailed product knowledge than any developer. Ken was a very kind and caring person. He will be sorely missed."

— Andy Mendelsohn (now EVP Oracle Database Server Technologies at Oracle)

"I'm 34 years with Oracle now and remember Ken to be one of the great Oracle employees of all time. He was a stickler for detail, and our greatest database evangelist in the early years. A true inspiration for a 23 year old like me, fresh out of school, new to software development, and trying to maintain a precarious handhold on a speeding freight train. Ken always had time to answer my questions. A few mentors like him early in my career are part of the reason why I've worked here for as long as I have."

— Stephen Bennett (now Senior Director at Oracle)

"So sad to hear this. Ken supported me early in my Oracle career, a truly inspirational man and a real gentleman. My condolences and best wishes to his family."

–Tania Le Voi (now Technology Product Strategy Director, Oracle Digital)

"So sorry to hear Ken is no more. What an amazing person – smart and humble. It's been a pleasure knowing this deep sea diver and a SQL savant. Personally he guided my first project at Oracle / a rewrite of the call interface. He left this place much better than he found with his contributions. May he be at peace wherever he is today."

— Debu Chatterjee, Ex-Oracle, (now Head of Engineering for AI/ML at ServiceNow)

"Oh my goodness, I am so sad to hear this news. I was doing Oracle Magazine and worked with Ken to create the Dr. DBA persona, he was such a great guy. I loved Ken and also Margaret, who became Margaret Lasecke-Jacobs!"

— Julie Gibbs (Oracle Magazine, now CMO at Troops)

"One of the really good guys at Oracle. Brings back great memories of the early days. RIP Ken."

— Ken Marshall, Oracle leader of Bethesda office that brought Ken into DC; (now Managing Partner, Marlborough Street Partners)

"Wow! Sorry to hear this. I had no idea what a "colonel" was 35 years ago and Ken Jacobs set me straight that it was a "kernel" and had nothing to do with popcorn. RIP Ken Jacobs."

–Eric Noelke (Head of Oracle Chicago Office – (now at Informatica)
Ken could also tell you about how to build, not just a job, but a career! Ken's mentorship showed that a career leaves a legacy and gives more than it gets. This was Ken, always giving, always bringing joy, but also showing great character.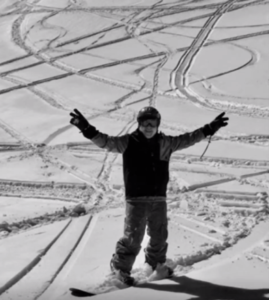 Later in Ken's career, he led the effort to integrate InnoDB after the acquisition by Oracle. InnoDB is the engine that makes MySQL fast. And with that, a whole new generation of Open Source users would get to know Dr. DBA. Of course, I always loved the quote that I heard about Ken on the slopes snowboarding where, after witnessing Ken coming down the slopes in an incredible way, a young snowboarder exclaimed: "Dude that was radical." Ken took off his goggles and the guy said: "I mean Sir that was radical."
Another quote from a friend said it all:
"Ken was a National Treasure and one of the kindest gracious people you could ever meet. He will be sorely missed."

— Harry Gould
Dr. DBA was bigger than tech.
Margaret tells everyone to remember Ken by noticing all of the pain & suffering out there, especially with the pandemic, and open our heart a little more on this day to everyone in the world. To Margo, he was, in her words: "Love of her life, soul-mate, best friend, & gift from God to me."
May Ken's memory be a blessing to all who knew him!