2019 Cloud Webinar Series: Join Us Tomorrow for Oracle Cloud Infrastructure Day!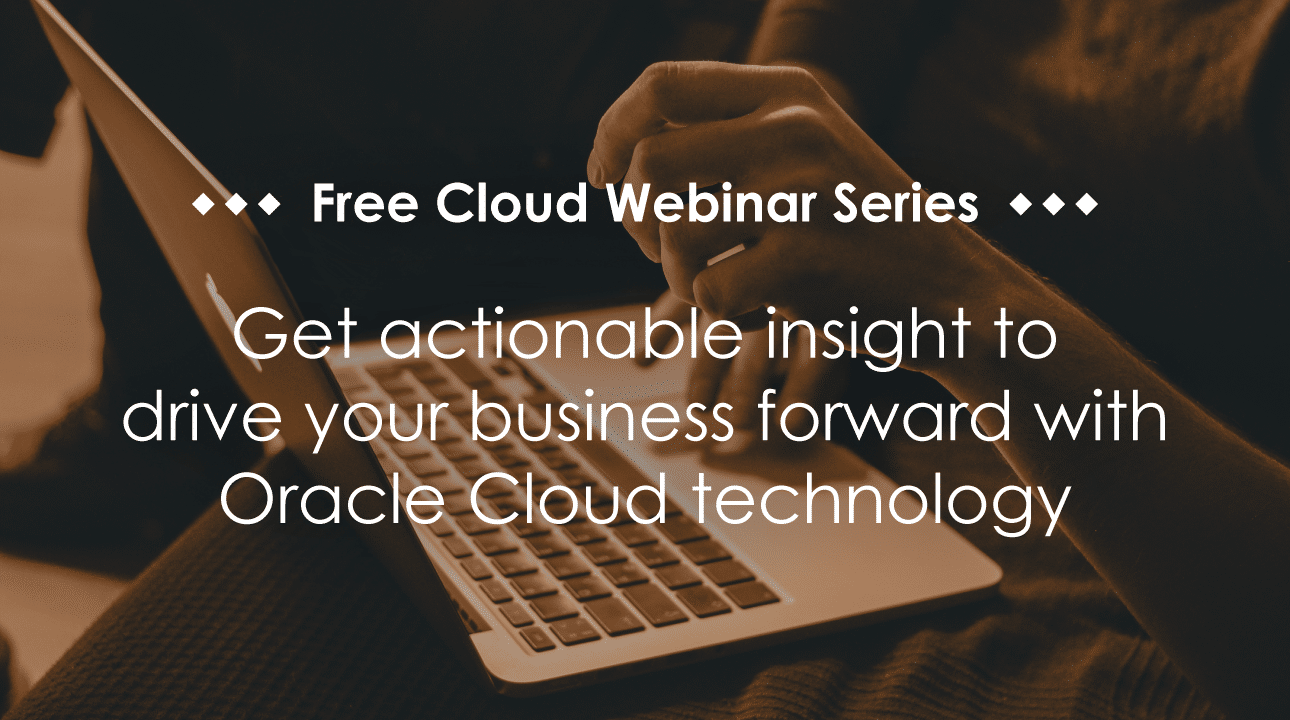 Navigating the Cloud journey can be daunting. Regardless of where you are in your Cloud journey, seize the opportunity to learn from peers, catch up on the latest hot topics surrounding Cloud technology and walk away with actionable insight to help you drive your business forward with Oracle Cloud technology. Our 2019 Cloud Webinar Series can help you do exactly that. This series features free, online education about Oracle Cloud applications, Oracle Cloud Infrastructure, Platform as a Service (PaaS), and Autonomous Database. Join us tomorrow for Oracle Cloud Infrastructure Day!
Check out the Oracle Cloud Infrastructure Day agenda below and click "Register Now" to register for the sessions today. Sign up for as many as you want! You will be emailed calendar invites with the link to join after you register.
Note: Times are reflected in the Eastern (EDT) time zone.
Oracle Cloud Infrastructure Day Agenda
11:00 am – 12:00 pm
Presented by Bal Sharma, Oracle
Learn different data management offerings available in Oracle Cloud Infrastructure (OCI) such as DbaaS VM, Bare Metal DB, ExaCS, Autonomous Databases, and considerations while choosing one over other. Ways to migrate to OCI using available CLI's and approaches. Designing for maximum Consolidation, Maximum Availability Architecture and Disaster Recovery for Oracle workloads in OCI with lower TCO. Automated Backups, Patching, Tools to manage databases on OCI, Performance management using Oracle's supported tools. Discuss various OCI's constructs such as availability domains Virtual Cloud Network and design considerations for deploying workload, designing across regions and Fault Domains to provide maximum protection and fault tolerance. Various options will be discussed including available DB/DBO such as Oracle RAC, Active Data Guard, Database In-memory, Multitenant, Security options, Multiple App/web Tier Nodes, Load Balancer, and replication across regions to create disaster recovery site.
2:00 pm – 3:00 pm
PeopleSoft Cloud Manager: A Technical & Functional Primer
Presented by Aaron Engelsrud, Capella University
This presentation will be a detailed step-by-step introduction to the installation of PeopleSoft Cloud Manager on the Oracle Cloud Infrastructure. The installation and configuration overview will be followed by a hands-on demo using PeopleSoft Cloud Manager to instantiate PeopleSoft environments, manage images, and upgrade PeopleTools on PeopleSoft Cloud Images. This will be a working demo with Cloud Manager running on the Oracle Cloud Infrastructure – all examples will be done in real-time during the presentation.
Register Now
3:30 pm – 4:30 pm
Presented by Phil Newman and Martin Sleeman, Oracle
As enterprises move the cloud, they are forced to rethink many of the traditional concepts they have used to control costs in their on-premise IT estates. In this session learn about how the cloud gives enterprises more freedom and has the potential to offer more savings than on-premise. Learn about a wide range of scenarios ranging from simple cost reporting to more advanced functionality such as budgeting/forecasting and optimizing costs.
Additional Resources
For more sessions from our 2019 Cloud Webinar Series, check out the other sessions that we have coming up:
Platform as a Service Day: October 16, 2019
Autonomous Database Day: October 17, 2019
To access recordings from ERP Cloud Day, EPM Cloud Day, HCM Cloud Day, and SCM Cloud Day, visit the 2019 Cloud Webinar Series landing page.
Save the date for Quest Experience Week! This free, four-day event is jam-packed with digital education designed to provide both strategic insight and how-to-education for Oracle users of all levels. Each day is dedicated to a different product and begins with a keynote followed by afternoon breakout sessions. Join us November 12-15, 2019, for conference-quality education from the comfort of your desk!
Cloud Day: November 12
Database Day: November 13
PeopleSoft Day: November 14
JD Edwards Day: November 15
COLLABORATE 20 will take place April 19-23, 2020 at the Mandala Bay Resort and Casino in Las Vegas, Nevada! Don't miss this chance to share inspiration, insights, and solutions with your peers, vendors, and the Oracle team!