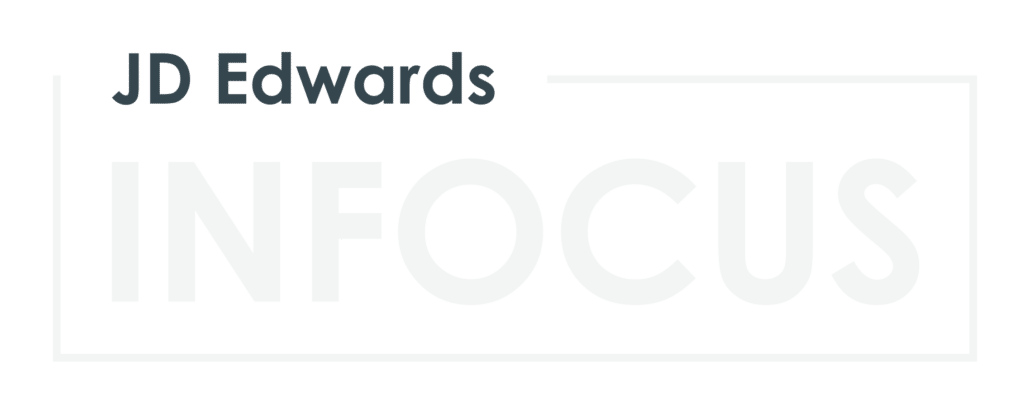 August 20 - August 22, 2019
Sheraton Downtown Denver
Denver, Colorado
JD Edwards Experts at INFOCUS 18
JD Edwards Keynote
The Innovating Enterprise – You Make it Happen
Presented by Lyle Ekdahl, Senior Vice President & General Manager, Oracle JD Edwards
JD Edwards excels at delivering solutions that facilitate digitization of information to help you create competitive advantage. Our continuous innovation results in breakthrough products that allow you to innovate—maximizing your market opportunities and improving operational efficiency. We are inspired by our customers who are adopting these new solutions and are delivering innovative new ideas. Attendees joined Lyle Ekdahl to explore how JD Edwards empowers your organization to innovate in the business reality of a digital economy and how you can make it happen.
Monday, August 20 // 12:45 pm
JD Edwards Executive Q&A
During lunch on Tuesday, August 21, these JD Edwards executives answered strategic questions about products, roadmap and support for JD Edwards solutions.
Lyle Ekdahl, Oracle JD Edwards
Gary Greishaber, Oracle JD Edwards
Bob Monahan, Oracle JD Edwards
Dawn Baker, Oracle JD Edwards
Neal Alsup, Oracle JD Edwards
---
JD Edwards Ideathon
Attendees showed us how they have applied new innovative approaches to solve a challenging business problem, automated a business process, created new business opportunities, or eliminated a prior modification with new JD Edwards capabilities. Submissions were judged by JD Edwards development executives for creativity and applicability to broader customer adoption. Users showed us how "you make it happen!"
---
INFOCUS featured deep-dive education straight from Oracle JD Edwards