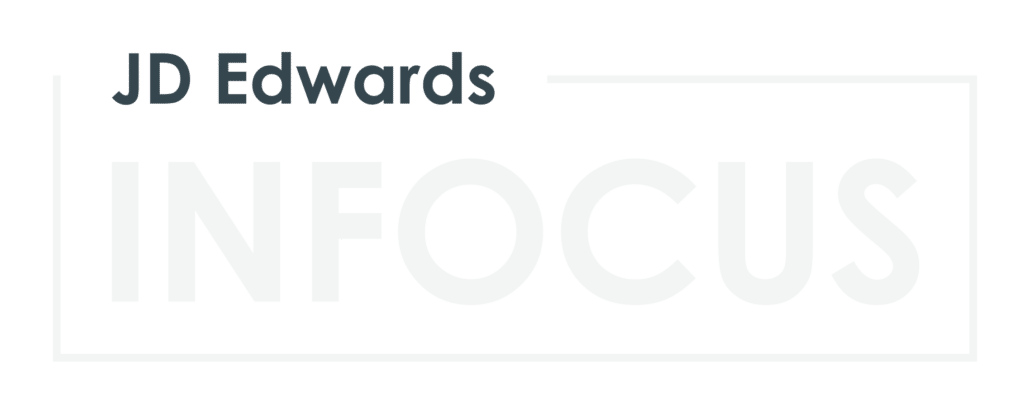 October 19 - October 22, 2020
The deep-dive virtual conference exclusively for JD Edwards users.
Present at INFOCUS 20
---

INFOCUS 20 has gone digital!  Join us as we reconvene the JD Edwards community online this fall to learn, connect and explore together.  At INFOCUS, we dive deep into practical JD Edwards learning as product users and experts share case studies, insights, best practices and tips & tricks with the JD Edwards community.
Speaking at INFOCUS is a great way to share your insights, meet new people, and give back to the community. Plus, selected speakers are eligible to receive a free full conference pass (some rules apply)​
Submit your abstract Speaker Timeline Education Tracks and Buzzworthy Topics Edit your presentation
This year's conference focuses on:
Upgrades​
JD Edwards in the Cloud​
Orchestrator
JD Edwards World​
NEW this year – select from 10 fun and flexible session formats to deliver your insights in fresh and interesting ways. There's something for everyone – customize your presentation based on your personal presentation style, topic, or experience level. ​
​
Limited speaker spots are available. Call for Presentations ends July 31st. ​
​
Submit your abstract today!
Join us and share your expertise. It's easy as 1-2-3!​
1. Choose your preferred session type: ​
Quick Tip Session (15 minutes): Do you have a simple solution that makes a big impact? Present a 15-minute quick tip session for quick, impactful tips that users can put to use right away! ​
TECH Talk (15 minutes): Looking to inspire? Introduce an innovative idea or creative solution to a challenging technology problem in these 15-minute TED-style talks. ​
Live Demo (15-30 minutes): Showcase a product or feature in these 15 or 30-minute sessions. ​
Best Practice Session (30 minutes): There's always a better way of doing things. Share tried and true best practices in these 30-minute sessions. ​
Customer Case Study (30- 60 minutes): Explain how you or your company have successfully leveraged a specific product, tool, or process. Pass along first-hand tips and tricks, lessons learned, and advice. ​
Insights Talk (60 minutes): This traditional lecture format provides an overview of a product, tool, or process, including key functionality, use cases, benefits, etc. ​
Panel Discussion (60 minutes): Perspective is everything! Be a part of a moderated lineup of 3-4 subject matter experts sharing different perspectives on a specific topic of interest. ​
Roundtable Discussion (60 minutes): Exchange information and ideas around a specific issue, topic or task in this facilitated open forum. ​
Special Interest Group (60 minutes): Engage with "your people." Host a conversation to explore shared interests and hot topics. ​
Workshop (2-4 hours): Walk users step-by-step through specific techniques and skills in these 2-4 hour hands-on sessions. ​
2. Complete the abstract submission form. ​
3. Press submit. ​
​
Did you submit earlier this spring for INFOCUS?
No need to resubmit! For any questions, contact Christina Yue.

Benefits of presenting at INFOCUS 20
As an accepted primary presenter at INFOCUS 20, you'll earn these exciting benefits:
Primary Customer Speakers: You will receive complimentary full-conference registration valid October 19 – 22, 2020 including access to all breakout sessions, keynotes, and official networking events once you have accepted the session and submitted in your session materials.
Primary Exhibiting or Sponsoring Vendor Speakers: You will receive complimentary full-conference registration valid October 19 – 22, 2020, including access to all breakout sessions, keynotes and official networking events once you have accepted the session and submitted in your session materials.
Your company must have a signed contract submitted for October 19 -22, 2020 in order to be considered an Exhibiting/Sponsoring Vendor. ​
Please note: Vendors may only attend INFOCUS 20 if they have a 2020 membership with Quest and if they are sponsoring and/or exhibiting at INFOCUS 20.​
Non-Exhibitor/Sponsor Vendor Speakers: You will not be able to present/participate in INFOCUS 20. If you are interested in speaking/participating please reach out to Michael Marks ​
All speakers will receive:
A profile in the Speakers section of the agenda builder and networking platform, through which supplementary materials can be shared.
---
Speaker Designations
Customer Speakers – individuals who work for a company/organization that utilizes at least one (1) Oracle product or service in a business capacity, and does not re-sell services, support, Oracle products or complimentary products to its customers.
Vendor Speakers – individuals who work for a company that sells products, services, support or other complimentary offerings to Oracle products or services.
Primary speakers – the lead presenter listed in the session information. Please note, there can only be one primary speaker per presentation.
Speaker Timeline
Call for presentation opens 
Call for presentation closes 
Speaker Draft Presentations Due
Speaker Final Presentations Due
INFOCUS 20 Education Tracks & Buzzworthy Topics
INFOCUS 20 features multiple education tracks across a range of JD Edwards topics.
Buzzworth Topics & Key Tracks at INFOCUS 20
Enterprise Asset Management
Sessions cover capital asset management, rental management, resource assignments, equipment cost analysis and more.
Development
Attendees will learn how to design and define application objects, enable applications to serve various locations and language while sharing the same data, define end-to-end processes in a user-friendly, graphical design environment and more.
Financials
Presenters will dive into accounts payable, accounts receivable, advanced cost accounting, expense management, fixed asset accounting, general ledgers, OneView Reporting and more to help extend companies' return on investment.
Human Capital Management
Presentations explore how the products of human resource management, payroll, self-services and time and labor can streamline users' HCM strategy.
Manufacturing and Distribution
Attendees will learn about synchronizing end-to-end processes including demand and supply management, shop floor and inventory operations, and quality, logistics and customer service.
Real Estate
Sessions will focus on how to effectively manage real property investments as an owner or landlord as well as streamline and optimize financial and operational processes.
Supply Chain Management
Presentations will explore how companies can reduce inventory and operational costs while improving customer service.
Technology
Attendees will learn how infrastructure tools help easily install, update, manage and get the most from JD Edwards applications.
Upgrades
Attendees will get a look at the simplified upgrade process, advanced job forecasting, One View Financial statements, revenue recognition, outbound inventory management and more new features.
JD Edwards on the Cloud
Presentations will provide answers to questions about how the cloud can maximize your company's JD Edwards investment.
Security
Attendees will learn how to control permissions for individuals and groups of users. Secure objects such as applications, forms, rows, tabs and more.
JD Edwards World
Sessions will explore how you can share information, boost performance, trim costs, and drive profitable growth on your World platform.
Orchestrator
EnterpriseOne Orchestrator is becoming the communications backbone for your connected systems. It can help you rethink your entire JD Edwards integration strategy. The Orchestrator uses the same technology that drives JD Edwards Mobile Applications and UX One – the AIS Server – to expose the functionality built into JD Edwards applications. Learn how you can create orchestrations to help your organization eliminate time consuming and error prone manual processes as well as learn how Orchestrator Studio enables business analysts to create, test, and deploy orchestrations without having to understand the complexity of the underlying code required for processing orchestrations.
Contact us
Registration
Presenters
Exhibitors & Sponsors