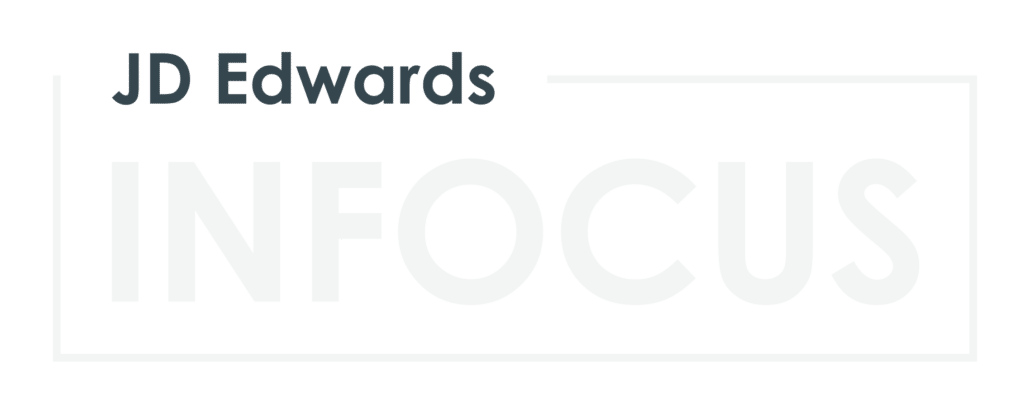 August 25 - August 27, 2020
Save the date!
Sheraton Downtown Denver
Denver, Colorado
Save on registration with Early Bird!
Call for presentations is open!
We want to hear from you! Share your stories, insights, expertise and experience with the Quest Oracle Community. Selected speakers are eligible to receive a free full conference pass. Call for presentations closes May 8.
At INFOCUS, you can:

Meet your JD Edwards product and strategy teams person
Select from more than 200 hands-on technical and functional learning sessions
Earn CPE credits or get Oracle certified on your modules
Network with hundreds of other JD Edwards users
You'll learn from the experts, swap stories with other users, follow tracks specific to your product interests, and get practical experience through Oracle Hands-on Labs. Whether you're an old hand or just learning the ropes, INFOCUS 20 offers something for everyone.
Best of all, INFOCUS will help you and your team drive innovation, make better decisions faster, align business and technology goals and expand the business value of your existing solutions.
Come for the Content
INFOCUS features more than 250 deep-dive sessions in these tracks:
---
ALM/ELM
Development
Financials
HCM
Manufacturing & Distribution
Real Estate
Supply Chain
Technology
Upgrades
World
Stay for the Networking
Build and grow your network with hundreds of users like you.
---
Special Interest Groups
Roundtables
Kickoff Networking
Welcome Reception
Tuesday Night Party
Exhibitor Showcase
Interact with JD Edwards
Access more in-depth information about JD Edwards than anywhere else.
---
Explore product features and functionality
Find out what's next for JD Edwards
Gain unique insight from the people who develop your product
Get your questions answered by the experts
What is INFOCUS?
The 2020 INFOCUS conference is the premier deep-dive JD Edwards focused event of the year. 400+ people gather each year to the network with users just like themselves, benefit from 250+ interactive sessions, interact directly with the JD Edwards Product and Strategy Teams, meet vendors from 90+ different companies, and more. Attendees will find practical solutions to today's business technology and learn how to best leverage their JD Edwards investment.
Why attend INFOCUS?
INFOCUS 20 is the premier deep-dive JD Edwards conference that allows people to maximize the value of their JD Edwards solutions. JD Edwards users will receive a personalized and tailored experience focused entirely on JD Edwards.
INFOCUS was created for JD Edwards users, by JD Edwards users.
Hear real stories from real JD Edwards users.
Network with hundreds of other JD Edwards users who are just like you.
What will I learn at INFOCUS 20?
At INFOCUS 20 you'll have a chance to experience a true deep-dive into everything JD Edwards.
Get access to 250+ functional and technical education sessions.
Create a personalized agenda that meets your personal and organizational needs.
Find out about future planned features for JD Edwards.
When and where is INFOCUS 20?
INFOCUS 20 will take place from August 25 – August 27, 2020 in Denver, Colorado at the Sheraton Downtown Denver.
"We were able to find out from other JD Edwards businesses how they approached common challenges, see where we are ahead of the community, and where we can/need to use our technology better."
"This is a great conference for power users to learn how to use JD Edwards efficiently and to meet other customers to bounce ideas off of later on."
"The smaller conference allows in-depth conversations about relevant topics without being overwhelmed by the sales noise of larger conferences."