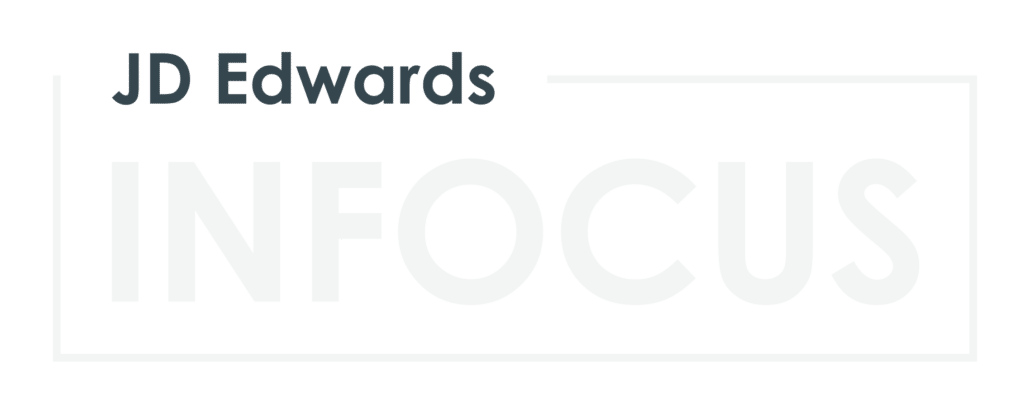 October 19 - October 22, 2020
The deep dive virtual conference exclusively for JD Edwards users.
A note from Oracle's Gary Grieshaber
What a year 2020 has been! Now, more than ever, the JD Edwards product team is eager to connect with you and equip your team with the skills and insights to drive your business forward. We are thrilled to be part of INFOCUS 20 and invite you to join us October 19 – 22 online!
INFOCUS 20 is the ONLY conference dedicated exclusively to JD Edwards: created by users for users and supported by your Oracle JD Edwards team. We're excited to hear from customers and others across the community as they share what they're doing with JD Edwards products. 
With a new virtual conference platform, this year's event is designed to make digital learning easy with flexible, mix and match programming that fits conveniently into your schedule.  Plus, special all-digital pricing delivers high value for companies tightly managing their budgets. 
The Oracle product team will be hosting sessions for each of our product focus areas including Simplify & Automate, ERP Optimization, and Digital Transformation. We'll have deep dive sessions on new capabilities and innovation like Project Status Inquiry, Work Order Activity Rules, Orchestrator, personalization and extensibility. Additionally we'll share best practices for modernizing your user experience, rapidly deploying new features, running JD Edwards on Oracle Cloud Infrastructure, and much more.
We dedicate more JD Edwards product strategy and development resources to INFOCUS than any other conference event. It is the place to learn, network, and influence the future direction of JD Edwards products.
The JD Edwards team and I look forward to seeing you online at INFOCUS!
Contact us
Registration
Presenters
Exhibitors & Sponsors