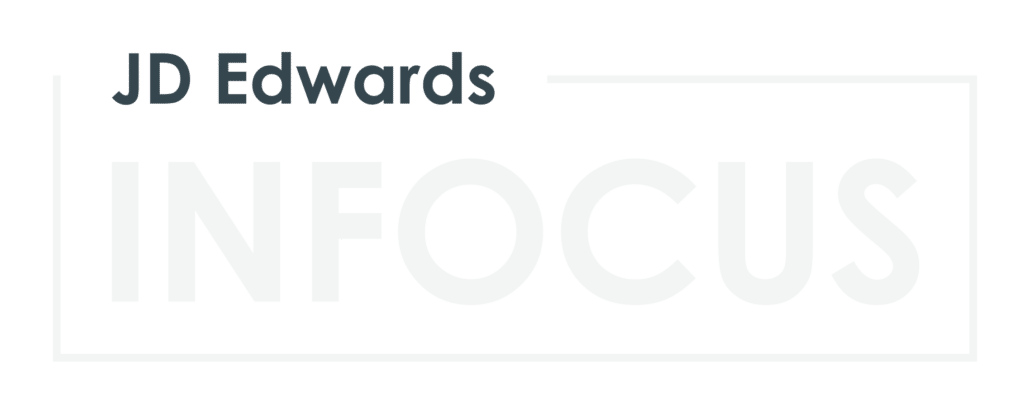 August 25 - August 27, 2020
Save the date!
Sheraton Downtown Denver
Denver, Colorado
INFOCUS 20 Education
Learn from 250+ deep-dive education sessions, interact directly with the JD Edwards Product and Strategy Teams, find practical solutions to today's business technology challenges and learn how to best leverage your JD Edwards investment.
---
INFOCUS 20 Education Tracks & Hot Topics
INFOCUS 20 features multiple education tracks across a range of JD Edwards topics.
Key Tracks at INFOCUS
ALM/ELM
Sessions cover capital asset management, rental management, resource assignments, equipment cost analysis and more.
Development
Attendees will learn how to design and define application objects, enable applications to serve various locations and language while sharing the same data, define end-to-end processes in a user-friendly, graphical design environment and more.
Financials
Presenters will dive into accounts payable, accounts receivable, advanced cost accounting, expense management, fixed asset accounting, general ledgers, OneView Reporting and more to help extend companies' return on investment.
Human Capital Management
Presentations explore how the products of human resource management, payroll, self-services and time and labor can streamline users' HCM strategy.
Manufacturing and Distribution
Attendees will learn about synchronizing end-to-end processes including demand and supply management, shop floor and inventory operations, and quality, logistics and customer service.
Real Estate
Sessions will focus on how to effectively manage real property investments as an owner or landlord as well as streamline and optimize financial and operational processes.
Supply Chain Management
Presentations will explore how companies can reduce inventory and operational costs while improving customer service.
Technology
Attendees will learn how infrastructure tools help easily install, update, manage and get the most from JD Edwards applications.
Upgrades
Attendees will get a look at the simplified upgrade process, advanced job forecasting, One View Financial statements, revenue recognition, outbound inventory management and more new features.
JD Edwards on the Cloud
Presentations will provide answers to questions about how the cloud can maximize your company's JD Edwards investment.
Security
Attendees will learn how to control permissions for individuals and groups of users. Secure objects such as applications, forms, rows, tabs and more.
JD Edwards World
Sessions will explore how you can share information, boost performance, trim costs, and drive profitable growth on your World platform.