How to Align Organizational Objectives with Your PeopleSoft Investment
At RECONNECT Envision 2021, MIPRO Consulting's Larry Zagata, Managing Partner, VP Delivery, and Jeff Micallef, Co-Founder and Managing Partner, presented how to align organizational objectives with your PeopleSoft investment. The presentation focused on the perspective of C-level/management.
Zagata and Micallef shared a tailored process for enabling an organization to leverage PeopleSoft's capabilities in order to maximize value and investment.  They also discussed a method for defining organizational objectives, mapping those objectives to capabilities in PeopleSoft, and prioritizing and defining projects to achieve results based on business benefit and feasibility.
About MIPRO Consulting
MIPRO Consulting was formed in 2005 by former PeopleSoft executives to provide dedicated PeopleSoft consultancy. MIPRO focuses primarily on optimizations, upgrades, and managed services. Some customer projects include:
Optimizations, assessments, and implementations
PUM updates and managed services
ERP Specialists: FMS, SCM, and Lease Administration
Chatbots, Kibana, and moving PeopleSoft to OCI
Acquisitions and company mergers
Challenges of Optimizing PeopleSoft
Zagata provided examples of some challenges that customers may face that prevent them from getting the most out of their PeopleSoft system.
Upgraded to PeopleSoft 9.2 but performed a "technical only" upgrade

No new 9.2 features deployed
No new Tools 8.5x features deployed
No Fluid deployed

Very manual intensive approach to operational support

Buyers run queries, print results, navigate to source pages and investigate

Executives cannot get the data they need in a timely manner

Run daily queries and BI publishers reports scheduled

Inefficient work processes

Lack of use of Work Centers

The organization is becoming more mobile and working remotely
Optimization Approach
Step 1 of MIPRO's optimization approach is an Executive Workshop where you will need to define challenges, align objectives, and prioritize objectives. Once you've done that, you can move on to Step 2 – a PeopleSoft review. This in-detail review will take a look at new features and functionality that has been delivered in PeopleSoft. From there, recommendations can be made about prioritized projects, feasibility, business benefit, and roadmap items. Step 3 of this approach is to establish the project roadmap that will help you provide improved functionality, stability, and employee satisfaction.
Executive Workshop
Pre-pandemic, this workshop would traditionally happen on-site, but MIPRO has since adapted it to occur remotely. The goal of this workshop is to gather leaders in each area of the project to work through the following steps:
Define your current issues/concerns (top to bottom). It's important to be specific and generate a list.
Document specific objectives that must be accomplished. Narrow it down to a handful.
Come to a consensus and prioritize objectives.
Define and document success criteria. What defines a successful optimization?
Generate an Executive Strategy Outline (ESO) that is used to help prioritize projects.
Execute product reviews.
The image below shows an example of documenting objectives and their corresponding challenges (listed in another section of the ESO).
Zagata further explained the reasoning behind this approach. There have been 800+ new HCM features and 1,100+ new FSCM features since 9.1. With that many new features, there is no good way to jump in and figure out where optimization opportunities are. By taking on the approach of identifying challenges and objectives, your organization will have specific areas of focus that are most urgent and beneficial.
The process has a natural flow. Executive challenges help feed downstream challenges, and challenges help define what needs to be addressed. Those challenges are easily transformed into objectives, which are used for internal alignment and priorities. Everyone should be working to achieve these objectives from top to bottom. These objectives then guide the PeopleSoft reviews.
PeopleSoft Review
Once the challenges and objectives are compiled, MIPRO helps customers take that information and focus on areas to improve or optimize within PeopleSoft to help accomplish the objectives. The PeopleSoft review consists of the following steps:
Generate a list of new features and functionality available between the current Image and the latest available Image

Utilize the Cumulative Feature Overview (CFO) tool

Understand the objectives and focus on the areas in PeopleSoft to achieve those objectives
Review current business processes

Where can new features/functionality improve these processes?

Review current setup and configuration in PeopleSoft

Where can you eliminate customization?

Don't ignore opportunities to improve the end user experience
Generate a list of opportunities

Define the business benefit
Define the feasibility
Map the recommendation to the objective it helps achieve
Prioritize

Detailed documentation
Develop a Project Plan to execute the various "mini" projects
The images below show examples of the benefit and feasibility chart that MIPRO can help you establish. This shows the priority of each project, the business benefit, feasibility, and objective that it supports.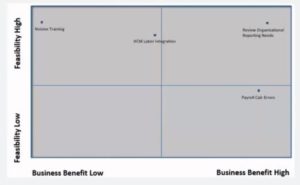 The benefit and feasibility chart helps your organization focus on items that have high business benefit and high feasibility. On the other hand, it prevents you from focusing on items with a big lift (low feasibility) and a low business benefit. Completing this review helps you prioritize projects and provides your organization with a nice roadmap of features and functionality to deploy in order to help optimize your PeopleSoft system and improve business processes. This will also help you see if it's a timeline you can manage on your own or if you will need the help of an implementation partner like MIPRO to help you carry it out.
MIPRO also helps organizations develop an optimization level chart that shows where your current state and desired state fall on the scale between sub-optimized and optimized. This chart also helps identify primary opportunities for improvement.
It's important to focus on not only new features and functionality but also the existing capabilities of PeopleSoft and how you can configure it to improve the end user experience. Existing features like Simplified Analytics, Kibana, Page and Field Configurator, drilling URLs, Related Actions, and Fluid pivot grids are great places to start. MIPRO can help customers bridge the knowledge gap to help them understand what features are and how they can be leveraged.
Project Roadmap
The documentation that you create during the executive workshop and PeopleSoft review will help your organization define your projects. These documents will show the project and the proposed solutions. MIPRO helps customers sort through the most important recommendations. The team meets with teams throughout the organization and helps them agree to priorities and projects that have the biggest benefit. The recommendations directly related to the established objectives, and as you continue down the roadmap of projects, you will move toward a more optimized PeopleSoft system.
Summary
Zagata emphasized again how important it is to treat optimization as a project. Start with the executive workshop and utilize an experienced facilitator to help your organization align objectives. Then, leverage the executive workshop for the PeopleSoft review where you organize the results. Do not ignore end user experience improvement opportunities. Define projects that can be executed on an achievable timeline. Focus on projects with high feasibility and high business benefit.
To learn more about how to optimize PeopleSoft and align your organizational objectives with your PeopleSoft investment, check out MIPRO Consulting's RECONNECT Envision 21 presentation attached below.